I have been working through my lists of must have baby registry products for things from feeding baby to whether Dreft is necessary. But what about the things that make life easier with a baby that are not necessarily considered must haves?
In this post I want to capture all the items that made my life with a baby so much easier. These are items I definitely would not want to live without during the first year.
And even though they might not be considered essential baby products, I would still recommend buying them to make your life easier with a baby.
And, if you are a parent to twins, don't worry we have you covered. The quantities needed for both twins and singletons are included in this post.
Please note, there are affiliate links in this post. Read my disclosure policy to learn more.
Baby Sleep Gear To Make Your Life Easier
Even though the items listed below are not absolutely necessary, I love them for making life easier for baby sleep. For the must have baby sleep items check out our essential baby sleep gear list for your registry.
(1)* Bouncy Chair
These are great for napping. Another perk is they are portable so you can have your newborn nap wherever you are. My kids always slept well in them.
*will need (2) for twins
(1) Swing
I personally like the glider swing because it works and it's smaller than a standard swing.
We had a 3-4 week period when this is all 2 out of 3 children slept in at night.
So, it could definitely be worth it to splurge on a swing to get some sleep and keep your sanity.
(2)* Velcro Swaddles
I like the Summer Infant velcro swaddles best. These are especially nice to have for first time parents, when you are still trying to figure out how to make a tight swaddle.
*will need (3) for twins
(1)* Baby Merlin Magic Sleepsuit
We love the Baby Merlin Sleepsuit!
We used it for transferring our babies from sleeping in a bassinet to the crib. If you end up using the Baby Merlin, I recommend purchasing a second suit in case of middle of the night diaper leaks.
The suit does come in a 6-9 month size, but we only used needed the 3-6 month size.
My babies fit in this suit well past 6 months, so don't buy the bigger size ahead of time.
*will need (3) for twins
(2)* Sleep Sacks
We started using sleep sacks after the babies were out of the Merlin sleepsuit. They loved them.
The Halo brand is great quality and a really good value.
*will need (4) for twins
Nursery Items To Help Your Baby To Sleep
I love the three nice to have items listed below for the nursery. Again, having these items will only make your life easier with your baby. Be sure to also check out our list of nursery must haves for your baby registry.
(1)* Video Baby Monitor
This is especially convenient if you have 2 floors in the house.
We were never totally thrilled with our monitors from Samsung and Levana.
So, if I was purchasing a monitor today I would go with this Infant Optics monitor. It has great reviews and it's a good price.
*will need 1 monitor with 2 cameras for twins
(1) Set of Blackout Shades
I have read getting blackout shades will help baby sleep later in the morning and nap for longer during the day.
So, we purchased blackout shades for both nurseries and they have been great.
My kids have been good sleepers and nappers, so I think the blackout shades helped.
(1) Sound Machine
A sound machine will drown out noises around the house.
On top of that, it can comfort your newborn to hear noises similar to the womb.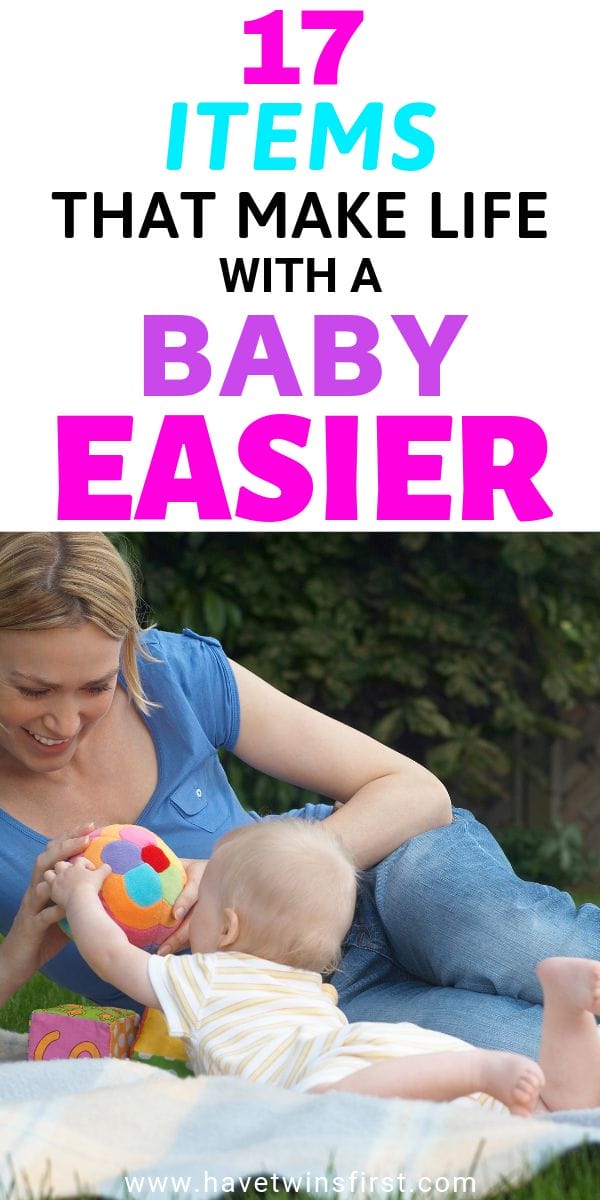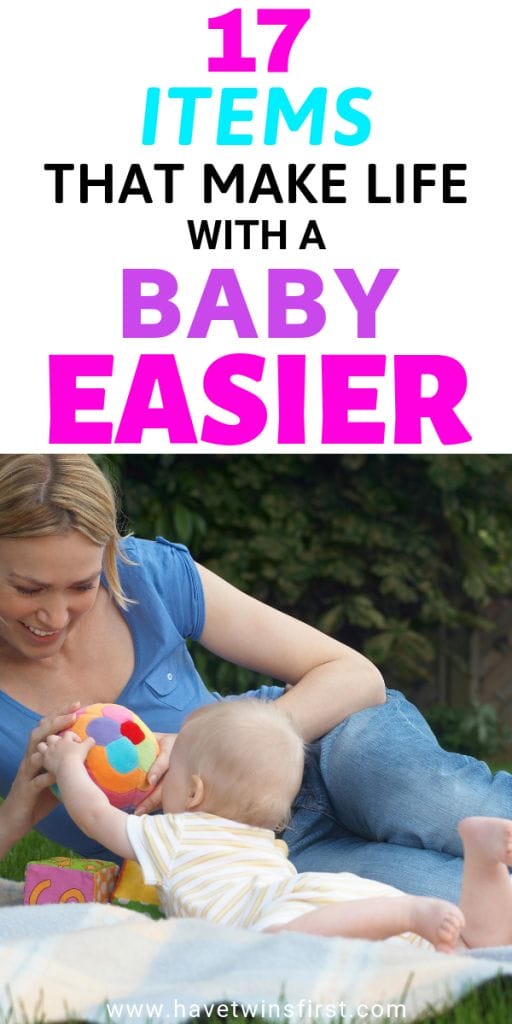 Gear For Hanging Out With Your Baby
(1)* Boppy Lounger
A boppy lounger is a great, portable spot to let your newborn hang out. Just keet in mind this device is not intended to be used for sleeping.
*for twins get (1) Twin Z pillow instead
(1)* Jumper 
The twins played in this a lot, they loved it!
What I loved, is it allowed me to get some stuff done around the house, while my baby was safe and entertained.
I recommend the Fisher Price jumperoo, it's very bouncy. We also had a Baby Einstein jumper, but the Fisher Price one was always more popular in our house.
*will need (2) for twins
(1) Play mat
A play mat is wonderful entertainment for the first 6 months. It's also a nice spot for tummy time.
This got a lot of use, especially the first 6 months. If you have twins make sure you pick one where the mat can fit 2 babies.
All The Other Things To Make Life Easier With A Baby
(1) Bottle Drying Rack
We love the Boon grass drying rack. It has gotten a lot of use and it has been a conversation piece when we've had visitors.
I also recommend the set with the twig and flower accessory to give you more space for drying bottle parts.
(2)* Pacifier Clips
We loved having a pacifier permanently clipped to the car seat, that way you never forget it when you go out.
*will need (4) for twins
(1) Diaper Pail per changing area
Even though a diaper pail is not a diaper changing essential, it is so helpful for keeping away the bad diaper smells.
The diaper genie has been great and does its job of containing diaper smell very well.
(1) Medicine Kit 
This was such great kit to have on hand. Especially if it's 3am and your newborn has been screaming for who knows how long.
(1) Nasal Aspirator
You will get one for free at the hospital, so you could use that one. However, I really like the Nosefrida Snotsucker.
Does it sound gross? YES!
But, it works so well and there is a filter to prevent any exposure to snot. Plus the attached tube is so long I've never had anything come even close the filter.
A few Teethers
Our kids loved these Munchkin ones that you can put in the freezer, and these refrigerated or freezer Ike & Leo teethers. 
That's it for the list of things to make life easier with a baby. Want to know all of the recommended baby gear? Then, check out our complete baby registry checklist.
If you found this post helpful, don't forget to follow our Facebook page or pin this article for future reference.